As part of the ongoing development of the Write Where It Hurts Project, we will be publishing a series of books in the coming years. On this page, we share the books published in this collaborative project to date with information on content and purchase options for each book. 
——————————————————————————————————————————————-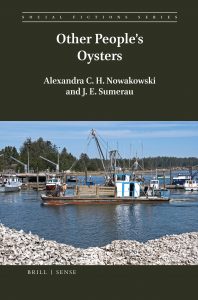 Other People's Oysters
By Alexandra C.H. Nowakowski & J.E. Sumerau 
Number 27 in the Social Fictions Seriesavailable for purchase here
There may be no more famous form of seafood than an Apalachicola oyster. People travel from all over the world for the chance to try out these oysters and gush over just how large, flavorful, and unique they are in comparison to other foods. In Other People's Oysters, however, Apalachicola oysters are not merely internationally known delicacies bringing money and recognition to the bay – they are the center of family ties, a symbol of a disappearing way of life, and the catalyst for a social movement that rocks the nation. Tripp and Jessica Rendell have lived on Richards Island in the Apalachicola Bay harvesting, selling, and cooking oysters for decades. During this time, their children – Carina, Bobby, and Roy Lee – grew up to take over the harvesting business (Carina), take over the family restaurant (Bobby) and run off into the wider world to become a lawyer and political activist (Roy Lee). Through the eyes of Carina, we watch life and work change throughout the bay throughout these decades, and witness the ways corporate, environmental and political policy focused more on wealth than the lives of the people and the conservation of the bay led to increasing poverty, decreasing oyster production, and the ongoing destruction of the bay. But when her latest series of law suits seeking aid and reparation stall in the courts, Roy Lee moves back home and forms a plan for taking back the bay, raising up the people, and fighting for the Rendells' way of life. Other People's Oysters may be read entirely for pleasure and used in courses focused on social movements, families, class dynamics, politics, environmentalism, mental diversity, sexualities, gender, rural and small town cultures, intersectionality or the American southeast.
——————————————————————————————————————————————-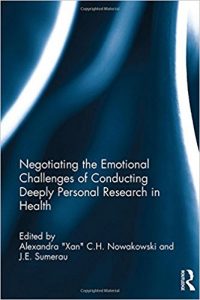 Negotiating the Emotional Challenges of Conducting Deeply Personal Research in Health 
Edited by Alexandra C.H. Nowakowski & J.E. Sumerau 
Available for purchase here
Public health researchers and clinicians regularly work with people who have suffered physical and mental trauma. Knowing how to conduct a study or treat a patient while navigating deep emotional issues requires special skills and overall awareness of how trauma can impact the process and outcomes of participating in research and/or receiving health care.
This book presents a diverse array of case examples from scholars of health-related topics, focusing on biographical narrative as a window into understanding key needs in trauma informed scholarship and medicine. Exploring stories from people of varied backgrounds, experiences, and contexts can help professionals within and beyond the academic research and clinical care spheres create rewarding experiences for patients.
Negotiating the Emotional Challenges of Conducting Deeply Personal Research in Healthwill be of interest to public health practitioners, educators and researchers as well as students.